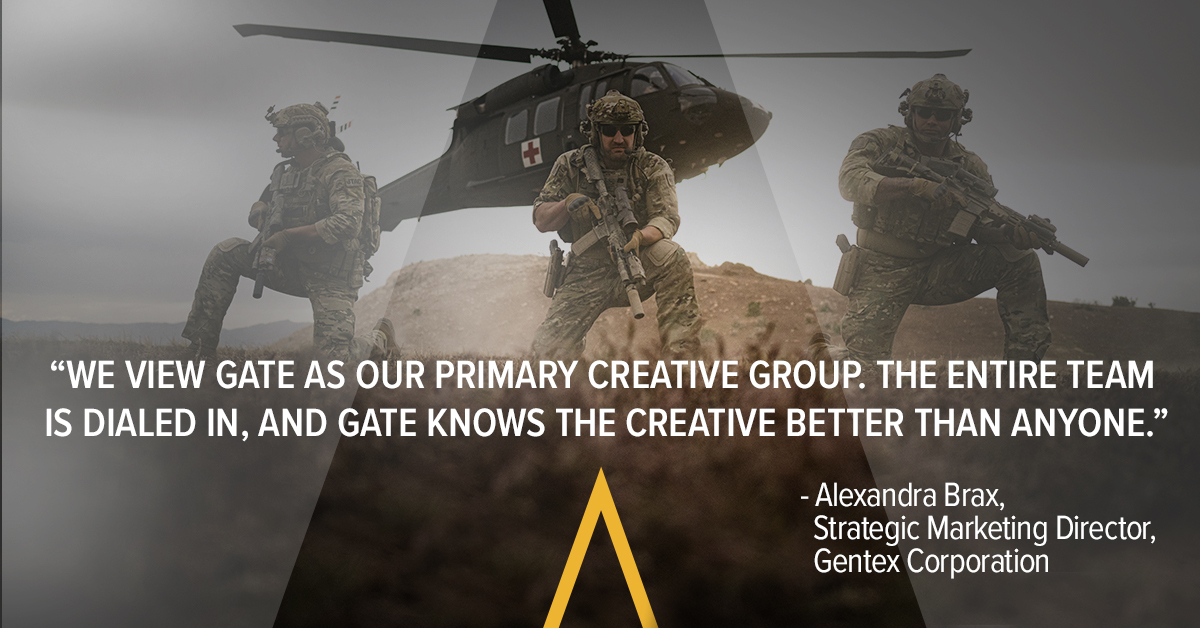 That feeling when you first start working with a client, and there's instant chemistry and shared energy to do great work together – it's the stuff of agency dreams.
For our team, getting the chance to work with the marketing team at Gentex, an industry-leading global supplier of advanced technologies for the defense industry, was a dream come true. And we're happy to say that three years later, we're still pinching ourselves.
We're proud to say we've done some of Gate's best work for Gentex. Not only is the brand's mission inspiring, but the products and marketing team that supports the brand are held to the highest of standards. And so are we.
Gate has the pleasure of working directly with Alexandra Brax, Strategic Marketing Director at Gentex. When we asked her to share more with us about the value Gate has brought to Gentex, here's what she had to say.
Q. What is One of the Biggest Marketing Challenges that Gate Has Helped You Solve So Far?
A. Fully understanding the Gentex customer was the biggest challenge we faced years ago. We have strategists who came up with our customer personas and the overall plan, and then the team at Gate was huge in helping us bring those personas to life with the right language and imagery.
Q. Now, After Years of Working Together, What Do You Find Most Valuable About Our Partnership?
A. That we're true partners, as you said. We view Gate as our creative partner and a member of our in-house team. And the fact that you can operate in that way with us is huge.
Our strategists can come up with a plan, hand it to your creative team, and I know that you're going to come up with the right language and imagery that will resonate with our customers.
Gate is an extension of Gentex. We view you as our primary creative group. Your entire team is dialed in, and you know the creative better than anyone.
Q. Gate and Gentex Have Worked on Multiple Video Projects Together. How Would You Describe Our Collaboration on the 'Gentex Matters' Hiring Video?
A. When we first developed the strategy and concept for the Gentex Matters hiring video, we had one thing in mind. The videos would be used internally for HR talent recruiting.
Once the Gate team started interviewing employees for the videos, we saw the results and realized that these were powerful interviews that could be leveraged beyond our internal team. They ended up being huge for our corporate brand, and we were able to repurpose the video content into bigger brand content pieces.
Without a doubt, it was the authentic exchanges between Gate and our employees and your team's ability to make everyone feel comfortable that made the published work so incredible. You were able to have meaningful conversations that captured what we needed from that shoot.
Q. What Was Your Experience with the PureFlo Videos?
A. Our PureFlo brand targets the healthcare and pharma industries. At the time, the brand had low awareness and cache due to it being highly niche. We asked your team to come up with a fresh, innovative, and disruptive creative strategy to market PureFlo in a way that clearly differentiated it from other players in that space.
We gave your team this big task knowing you couldn't go out and shoot photos because we were at the height of the COVID lockdown. But you came up with an incredible concept, and we ended up shooting our Crazy Big Numbers video. That video is really representative of where we want that brand to go, and it's a marketing approach the industry isn't used to seeing.
Q. Everyone at Gate is Very Proud to Have Supported the Gentex Aircrew Project and its Product Catalog Design. How Did You Feel About the Result of that Project?
A. Your team did a great job of taking the lead on our product catalog design, showing us what was possible, and enhancing the Gentex Aircrew brand from a visual perspective. There was a series of existing photography that we had to work with, and Gate took those tactical images and made them work for us. Your team was instrumental in helping to elevate that brand.
Overall, Gate has brought Gentex a lot of value not only because of your creativity but because of how easy you are to work with. We can get on the phone with you and share a vague concept of an idea, and you breathe life into it. You're our unofficial in-house creative team and make everything easier. When we work with anyone at Gate, it's a pleasant exchange every time.
We're proud of the branding work we've developed for Gentex and for each brand we've had the honor of supporting. When you're ready to begin your branding and creative journey, we'll be here.
We are Gate. Let's do this together.
Contact us today to get started.